When Nuri Sahin left Dortmund for Real Madrid in the summer of 2011, a lot of people were expecting Dortmund to fail in their quest for titles. Sahin was the fulcrum; the heart-beat of Dortmund's playing style. He was so influential in Dortmund Bundesliga winning 2010-11 season that he was voted the best player in the Bundesliga – in a league which had a world-class midfielder in the mould of Bastian Schweinsteiger.
Replacing the best player of a title-winning team is hard, especially with a not-so-big budget. But Jurgen Klopp had already decided who he would sign to replace Sahin: Ilkay Gundogan.
Ilkay Gundogan
Replacing your best player with a relatively unknown €4.5m signing is a gamble; Klopp took it and it paid off. Klopp's judgement of the then exciting-but-obscure talent was as accurate at Juninho's free-kicks.
And now, after a little under 2 years, Sahin, who's back at Dortmund, finds himself playing second fiddle to the man who was bought to replace him in probably one of the biggest ironies of life.
In his first few months at Dortmund, Gundogan drew more skepticism than praise. However, in the business end of the season, he became the focal point of Dortmund's play – an epiphany about his talent could be seen amongst fans. His distribution of the ball, flow of movements and drive helped Dortmund to win the Bundesliga for the second time in a row – a feat which many thought wouldn't be achievable after the sale of Kagawa and Sahin.
"Time to make him my b***h!" | Gundogan in action
In his second season, he just got better. Even though Dortmund haven't been able to retain the Bundesliga title this year, they have had a lot of positives and one of them is their performances in the Champions League.
Drawn in the group of death against Ajax, Real Madrid and Manchester City, a lot were expecting City and Real to qualify with the latter topping the group. Klopp, however, had other plans. Dortmund not only beat the other 3 teams, but also stayed unbeaten and managed to top the group in an outstanding fashion.
And Gundogan was one of the key reasons for that.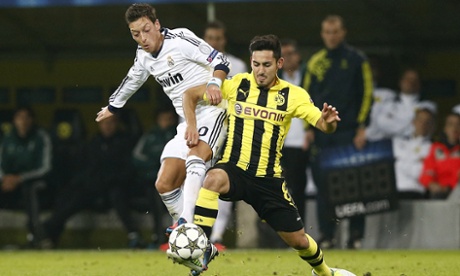 Battling for the ball against Ozil
While Lewandowski, Reus and Gotze get most of the plaudits because of their flashy style of play, it is Gundogan who does his work quietly and avoids the limelight.
Against Real Madrid in the first leg of the semi-final, Gundogan was absolutely unstoppable. The way he glided past Real Madrid players – who are established players of their respective international teams – with his deft touches, passed the ball around, pressed with altruism…it was mesmerizing. He made Football look so easy; it was like poetry in motion; as pleasing to watch as listening to Tim Charles play violin while sitting under a tree near a lake. With his first touch, he got away from the nearest opponent and with his second he passed the ball forward – a perfect player for a team that like to break quickly.
On one instance, he went past Khedira with his first touch and then took the ball away from Ramos with his second and then hit a venomous shot at goal with his left-foot which almost went in, but Diego Lopez came to Real's rescue. Just 2 touches in less than 2 seconds undid two of Real's best players; that was how good he was playing last night in a nutshell.
Just a spectator - Ozil keeps looking as Gundogan wreaks havoc
Regardless of how tight the space is, he seems calm and confident, that no matter how crammed it is, he will still find a way out. Such quality is very rarely found these days. His mobility and speed of thought and movement – he reads the game a split-second faster than his opponent – lets him get out of the tightest of spaces with the ball at his feet. Also, his surging runs to the opponent's box gives Dortmund an extra dimension in attack.
In the 35 games he has played in all competitions this season, he has completed 1.8 dribbles-per-game – a very good stat for a deep-lying playmaker. He also has made 0.8 key passes-per-game – not outstanding by any means, but certainly a good stat for someone who plays in front of the defense. Also, he attempts 56.1 passes-per-game with a success rate of 86.1%; not so flattering, but considering the way Dortmund play – quick breaks and not possession Football – these are really impressive stats.
Gundogan's greatest asset is his long-range passing. Against Real in the first leg of the semis, he executed 7 accurate long-balls. He averages 6.1 successful long balls-per-game this season – that is a testament to his exquisite passing range. He's also elegant defensively – averaging 2.4 tackles and 2.2 interceptions-per-game this season, he shows that he is very adept at breaking down the opposition's play.
A player who can break oppositions' play, get away from the nearest opponent within a touch and start an attack with the next touch – what else could you ask from a deep-lying-playmaker? Add to that his ability to burst forward and create maelstroms in the opposition defense and we have a complete package.
Surprise scoring threat | Gundogan celebrates after scoring
The second leg of the semi-final is just under a week away and Real find themselves in a position where they must score 3 goals without reply. With the amount of attacking talent Real have, it might not be that hard to score 3 at home against Dortmund. However, given Real's erratic defending of late, and Dortmund's firepower in attack, they have to make sure they close down Ilkay Gundogan and thus cutting down the supply line to Gotze, Reus and Lewandowski – something which Dortmund players successfully did on Xabi Alonso. Easier said than done, though, as Gundogan's mobility and quickness in movement make it really hard to close him down.
From obscurity to becoming the focal point of team that beat Real Madrid 4-1 in a Champions League semi-final – Gundogan's rise has been nothing short of meteoric. A lot of credit should be given to Klopp for trusting and showing faith in him – and Gundogan repaid him thoroughly by playing as he is capable of.
There might be some compunction amongst other managers for missing out on him – especially looking at how much he cost Dortmund. Klopp, however, has the last laugh. Gundogan is still young, only 22, and has a bright future ahead of him. He is still in his development years and can definitely get better and someday, if the current trend of the Bundesliga continues, play for Bayern Munich.
[Note: All stats were taken from www.whoscored.com.]
You can follow Umid on Twitter!